News & Media - Media Articles
---
---
Where Are They Now?
People Magazine, June 16, 2002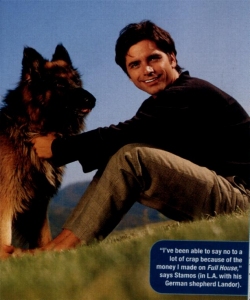 John Stamos
Uncle Jesse Cochran / Katsopolis
Fans of Full House's hunky rock and roller taped John Stamos's picture to their bedroom walls. But a clinch with the actor (who had Uncle Jesse's surname changed in 1990 to affirm his own Greek heritage) might have dampened their ardor. "Before every kissing scene, he'd eat Doritos and puff on a cigar," recalls his TV spouse, Lori Loughlin. Stamos's goofy sense of humor endeared him to his castmates---and to supermodel Rebecca Romijn, whom he married in 1998. ("When we're at a restaurant, sometimes I have to duck under the table because I'm laughing so hard," says Romijn-Stamos, 27.) After Full House, Stamos, 36, craved new challenges. He starred on Broadway's How to Succeed in Business Without Really Trying and played a porn editor in this year's indie feature Dropping Out. He has also become a producer, working on projects including The Beach Boys An American Family---a miniseries about the band, with whom Stamos often sits in on drums---and an upcoming TV remake of Butterflies Are Free, starring his wife. For Stamos, life out of the klieg lights has had one major benefit He can leave home without drawing a crowd. Recently, he says, "I rode on a public bus for the first time. It was so liberating! I feel rejuvenated as a human being."
---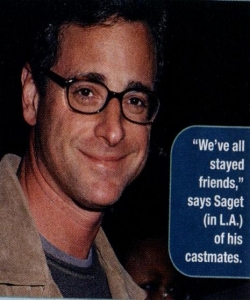 Bob Saget
Danny Tanner
Full House was wholesome; Bob Saget often wasn't. "I was always getting in trouble with the girl's' moms because I would say terrible things that weren't exactly kid appropriate," says Saget, 44, a stand-up comedian turned TV dad. His Full House daughter Candace Cameron Bure got the jokes. "I kind of played dumb," she says. "It was fun to hear those things, but I didn't want the adults to know that I totally understood." Saget, who lives in L.A. and shares custody of his three daughters with ex-wife Sherri Kramer-Saget, 43, is honing his adult material. In 1998, he directed the Norm MacDonald movie Dirty Work, and he has been refreshing his stand-up routine. The comic in him pokes fun at Full House. "I always thought my character was gay." says Saget. "He lived with two guys in San Francisco and dust-busted all the time. He sure didn't date enough for my taste. I kept asking, 'When is he going to get the girl?''"
---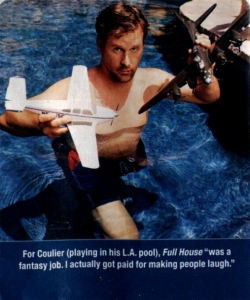 Dave Coulier
Joey Gladstone
The high jinks never stopped on the Full House set, and comedian Dave Coulier, 40, who played Bob Saget's pal, Joey, was usually the reason. When shooting in Hawaii, recalls castmate John Stamos, "we'd get kids to go up to Dave and ask, 'Are you the fat guy on Full House?'" Coulier, who says the show represented "a G-rated dysfunctional family," gave as good as he got. "Dave had a gas problem," says Saget. "He'd let go right in front of the little Olsen twins. Mary-Kate would hold her nose and yell, 'Dave made a stinky!'" After Full House, Coulier chose to focus all of his attention on the most important role of his life dad to son Luc, 9 (Coulier and Luc's mom, actress Jayne Modean, 42, divorced in 1992 after two years of marriage). "I feel like I've become a great dad." says Coulier, who shares custody with his ex. "It's the most rewarding thing I've ever done. It replenishes my soul." Coulier has put his new energy into creating an Internet site for kids, iComedyNetwork.com, set to launch this month. "I wanted to create something like Full House, where a parent can say, 'I know you're safe watching that.'" Occasionally, Coulier finds himself watching Full House. "I'll be in an airport and hear my own voice," he says. "I'll look around and see a TV set and go 'Oh, that's a really bad shirt. That's a really bad haircut.'"
---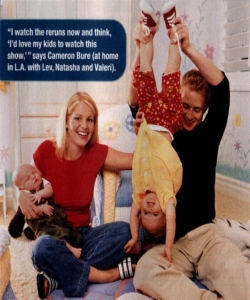 Candace Cameron
DJ Tanner
At the beginning, 11-year-old Candace Cameron was chaperoned to the set by her mother, Barbara, now 50, a talent agent (Candace's brother Kirk played Mike on Growing Pains). By the time the series ended, Cameron was 19 and engaged to Russian-born hockey player Valeri Bure, now 26. Castmate Dave Coulier introduced the couple at a charity hockey game. ("When Valeri first saw Candace, he just blushed," Coulier recalls.) Most of the Full House cast attended their 1996 wedding. Cameron Bure insists that she didn't miss out on anything growing up on a Hollywood set. "I don't know life any other way," she says. "I loved it." Her fondest memories are from the show's last two years. "Once I got my driver's license," she says, "everybody treated me like I was an adult." Now 24 and the mother of daughter Natasha, 22 months, and son Lev, 4 months, Cameron Bure has put her career on hold. "She's the most incredible mom," says Lori Loughlin, a close friend. During hockey season, the family rents a house in Calgary, Alta., where Valeri plays with the Flames; the rest of the year they live in a five-bedroom house in L.A. "The cool thing about my profession is that I can do it until the day I die," Cameron Bure says. "I figure this is my time---to relax, be with my family and have a normal life."
---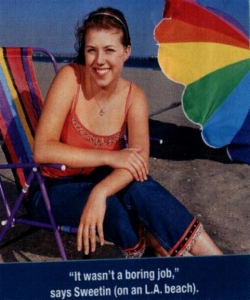 Jodie Sweetin
Stephanie Tanner
After seeing Jodie Sweetin in a guest spot on Valerie, the creators of Full House grabbed the 5-year-old for their new series. "She had the most wonderful smile," recalls executive producer Robert Boyett. As the middle Tanner sister, Sweetin made "How rude!" a preteen rallying cry. When the series ended, she had one wish "To go to high school and be a normal kid." At 18, Sweetin has just finished her freshman year at Chapman University in Orange, Calif., commuting from her parents' nearby home (dad Sam, 65, runs a handyman service; mom Janice, 50, is a wedding coordinator) in the BMW that, along with her education, is a fruit of her Full House paychecks. Although Sweetin recently did a guest spot on Party of Five, acting isn't part of her career plans. "The competition is so fierce once you become an adult," she says. "I'll probably move on to something else."
---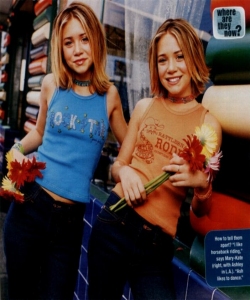 Mary-Kate & Ashley Olsen
Michelle Tanner
"When they were 2, I used to flap my arms and tell them, 'If you guys run and flap your arms really fast, you can fly!'" recalls Full House castmate Dave Coulier. "Every day I'd ask, 'Are you guys flying yet?' and they'd say, 'No!'" Fourteen-year-old twins Mary-Kate and Ashley Olsen, who shared the role of adorable Michelle from ages 15 months to 9 years, are now soaring. Although their promising 1999 series Two of a Kind failed, they anchor a multimillion-dollar empire that markets Olsen Twins books (100-plus titles), videos (some 20 so far), game cartridges (for Nintendo and PlayStation) and a megahit Web site. Last month, Mattel introduced Barbie-like fashion dolls ($30 per pair) of the Olsens. "It's kind of weird to have your own doll," says Ashley. "But it's neat too. I dress mine up in clothes like I have at home." Coming at the end of the year an Olsens clothing line at Wal-Mart. To keep the products rolling out, the hardest-working twins in showbiz are often away from their Los Angeles home filming or doing promotional tours. "It's a little exhausting at times," says Mary-Kate, "but it's fun to get away. We go to these different cities and shop at all the new stores." The fraternal twins---who have a brother, Trent, 16, and sister, Elizabeth, 11, and split their time between their divorced parents, Jarnette, 46, and David, 48, who act as their managers---do not date yet. "We're too young for that," says Ashley. "We just hang out with our friends." While they remember little of Full House except having fun, castmate Lori Loughlin believes the show gave the Olsens an excellent model for celebrity behavior. "We had no prima donnas," she says. "I think that helped them become well-rounded people. It's great to see them so successful."
---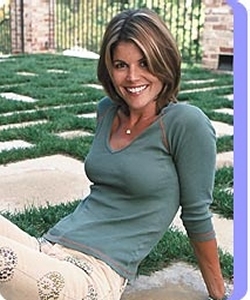 Lori Loughlin
Rebecca Donaldson-Katsopolis
She was hired for a six-episode guest spot in 1988 as Uncle Jesse's girlfriend, but Lori Loughlin stayed for seven years. "I kind of knew the first day that I was going to be there for a long time," says Loughlin, 35. "I felt I fit in immediately." The rest of the cast thought so too. "There was never a formal announcement," says castmate Dave Coulier, "but Lori brought a female perspective, which brought a nice balance to a show with three guys." The girls in the cast idolized their older female costar. "I had my first-ever kiss on the show," recalls Candace Cameron Bure. "I asked Lori, 'Am I supposed to keep my eyes open or closed?' She said closed. You wouldn't really want to ask anyone, but you knew you could ask her." After Full House folded, Loughlin starred with Tony Danza in the short-lived sitcom Hudson Street. "To have a show that ran as long as Full House is rare," she says. Lately she has been focusing on her family: husband Mossimo Giannulli, 37 (a designer whose once high-flying sportswear company is now being sued in bankruptcy court), and daughters Isabella, 21 months, and Olivia, 9 months. "I love acting, and I won't give it up," says Loughlin, "but right now, raising my kids is a full-time job."
---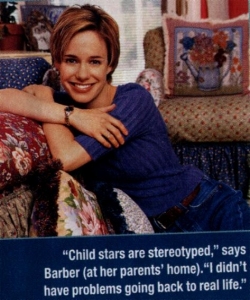 Andrea Barber
Kimmy Gibbler
For the most part, Andrea Barber, 23, has fond memories of Full House. Her only problem wardrobe. "Once in a while the costume people would say 'Hey, kids, take home whatever you want,'" recalls Barber. "The others would grab armloads, and I'd just take a pair of pants. My character was obnoxious, had stinky feet and wore things like purple tights and a yellow top. I hated the clothes." She nevertheless played the role to the hilt. "It was hysterical to see this geeky girl next door taking shots at Bob Saget," says House co-creator Robert Boyett. After House, Barber aimed higher. In 1999 she graduated from California's Whittier College and spent that summer interning with the U.N. High Commissioner for Refugees. Now working as Whittier's assistant director of foreign studies, Barber is applying to grad schools to pursue a master's in women's rights. "I love being a student," she says. "If I could, I'd stay in school forever."
---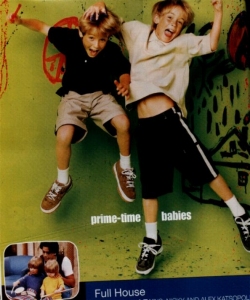 Blake & Dylan Tuomy Wilhoit
Nicky & Alex Katsopolis
Nothing is said about them in the article in People Magazine.