News & Media - Full House Related News
---
---
Candace Cameron Bure in new season of Dancing With The Stars
Added: March 14, 2014

Candace Cameron Bure is one of the contestants on the 18th season of Dancing With The Stars, which is set to start on March 17, 2014 at 8PM ET on ABC. Her dancing partner will be 27 year old mark Ballas.

According to US Weekly, Candace was excited to talk about her upcoming debut on the dancing show at the premiere of The Muppets: Most Wanted. She appeared at this premiere in a printed silk organza cocktail dress by Oliver Tolentino Couture.
---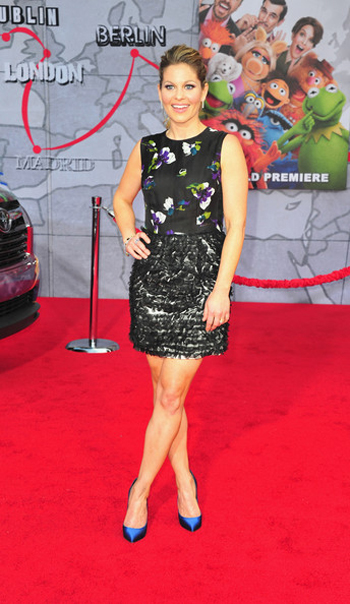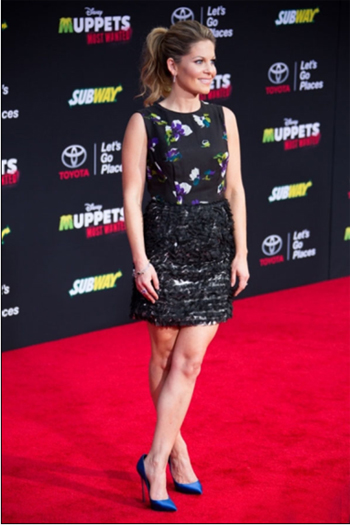 Candace in her printed silk organza cocktail dress by Oliver Tolentino Couture.
Photograph: © Berri Goldfarb Public Relations
---
"I absolutely love dancing," Candace told US Weekly, "I have no dance experience whatsoever, but from being a kid to today, if there's a wedding or a party, I'm the first girl on the dance floor, and I'm the last one off." And when it comes to preparation, Bure has more than dance pro Mark Ballas to help her on the dance floor.
"My husband Val's a professional athlete, and he did a very similar show to this in Canada. And he won two years ago. So I want to challenge myself the way that he did, and see if I can bring home the mirror ball trophy."
Candace also said she has lots of bruises on her legs and back from practicing. She and her dancing partner Mark Ballas will start with a contemporary dance next monday, when the show premieres.
According to her husband, Val Bure, Candace will face a greater challenge than the show's physical demands. "I think he prepared me going in," she said. "That it gets really, really tough, not only physically, but mentally, and that's what's helped me the most. Because I had been through it, even on the other side, not as the competitor, I know how much effort it takes. So I think a lot of people get surprised when they go into these competition shows and go, 'Oh, I didn't realize how hard this would be!' And I know how hard this is going to be."
Read more about Dancing With The Stars on the website of ABC.