News & Media - Full House Related News
---
---
Dave Coulier to appear on "Oprah: Where Are They Now?"
Added: June 04, 2014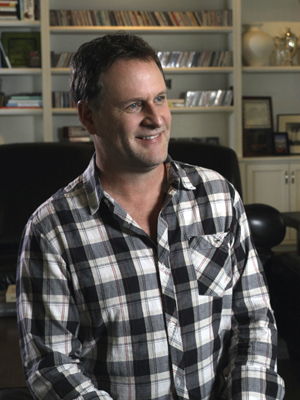 Photograph: © Harpo Studios, Inc.

Next Sunday, June 8, the popular series "Oprah: Where Are They Now" will return for a new season. One of the guests that will appear on the first episode of this new season, is Dave Coulier, who played Joey Gladstone on Full House. The episode airs on Sunday June 8 at 9:00 pm ET/PT on OWN: Oprah Winfrey Network.

In the interview, Dave Coulier explains the remarkable thing about Full House: "Full House. We have not gone off the year since 1987, which in itself is remarkable. There is something in the Kool-Aid with Full House. We have no idea what it is but it really has had staying power and I think it's more popular now that it's ever been just because of syndication."

Click here for a clip of Dave Coulier on "Oprah: Where Are They Now?".

The all-new season kicks off with compelling updates from the stars of the '80s hit television show "The Love Boat," Ted Lange, Cynthia Lauren Tewes and Jill Whelan, as they reunite and reminisce about life aboard The Pacific Princess. Then, in a rare interview at her Beverly Hills home, the one and only Latin music sensation Charo shares the secrets of her success and sets the record straight about the real meaning of her multimillion-dollar catchphrase "Cuchi-Cuchi." Next, Dave Coulier charmed millions as the goofy and loveable Uncle Joey on the popular sitcom "Full House." Now, he reveals his real-life relationships with former co-stars Bob Saget and John Stamos, the priceless advice Jay Leno gave him about standup comedy, and the truth about those Alanis Morissette rumors. Plus, actor D.B. Sweeney, best known for his role in the '90s classic film "Cutting Edge," talks about why he left Hollywood and how he ended up on OWN!

Below you can watch a sneak peek of the episode.

To watch a sneak peek of the episode, click here.

"Oprah: Where Are They Now?" features updates on some of the biggest newsmakers and most memorable Oprah show guests of all time. This all-new season offers revealing, never-before-seen follow ups with Candy Spelling, "Full House" star Dave Coulier, "The Love Boat" and "Knots Landing" co-stars, Sheila E., Spice Girl Mel B., Fran Drescher, Brigitte Nielsen, original Dreamgirl Sheryl Lee Ralph, Jaclyn Smith, Geraldo, Olympian Scott Hamilton, Charo, D.B. Sweeney, Scott Wolf, Antonio Sabato Jr., Tom Green, Elvira and more. "Oprah: Where Are They Now" is executive produced by Harpo Studios' Jill Van Lokeren, Jon Sinclair, Julie Simpson and Veronica Votypka.

For more information on "Oprah: Where Are They Now?" visit www.oprah.com/wherearetheynow.