News & Media - Full House Related News
---
---
Fuller House renewed for second season
Added: March 02, 2016

Only five days after the first season of Fuller House became available for streaming, Netflix today announced on Twitter that the show has been renewed for a second season. Although Netflix doesn't release any information about ratings of the shows on the network, the show seems to be successful enough to have earned a second season.

All 13 episodes of the first season of Fuller House were released on Friday February 26. Fuller House has been trending on Twitter and Facebook for days, which is a strong sign that a large audience has been watching episodes of the first season. And this popularity has earned Fuller House a second season.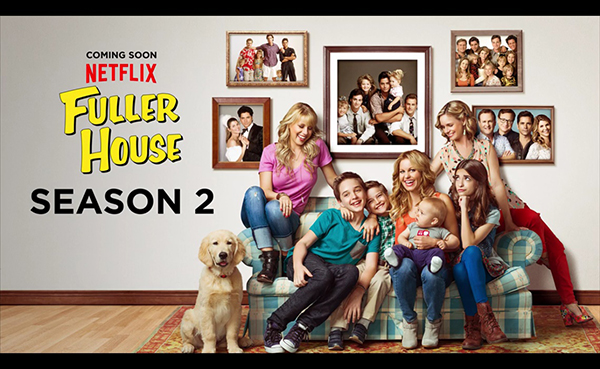 Cast and stars of Fuller House have already shared their thoughts on a second season. Show runner Jeff Franklin told Glamour.com that there will be more seasons to "delve into some of the legacy characters' backstories and fill in a little more of that. There's only so much time, so we weren't able to really fill in everything that's happened to them in the last 20 years. I'm hoping as time goes by, we'll get more chances. Netflix is an extremely bright group of people, and I can't imagine that they would somehow not pick the show up!"
John Stamos told People.com that if there is a next season (which we now know there will be): "I want to develop the kids more on the show. Have them carry a little more story, a little more emotional stuff."
The second season also gives new hope for the return of Mary-Kate and/or Ashley Olsen to reprise their role as Michelle Tanner. Jeff Franklin expressed his hope for their return in a future episode tot People.com: "I'm hoping that if we get to do more, maybe the Olsen twins will come and visit. I was honestly disappointed that they didn't come and play with us for at least an episode. But the door is still open and everybody is still friends and I hope that someday they'll decide that it seems like fun to come back and visit us. I'm hoping that will happen. They were missed."
Although the announcement on Twitter states that Fuller House will be back soon, it is currently unclear when the second season will be available on Netflix and how many episodes it will have. Of course Full House Forever will follow all developments on season 2 and keep you updated!
Read more
You find more information about Fuller House, its cast and the episodes in the Fuller House section.
---
---