News & Media - Full House Related News
---
---
A Full House revival might actually be in the works!
Added: August 29, 2014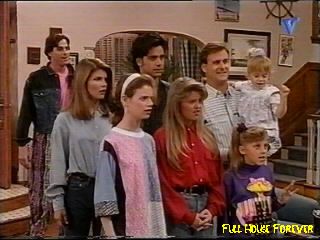 This week, word got out that Warner Bros. Television might actually be working on a revival of Full House. Of course, the news could be based on some speculation, as we've seen before the last couple of years. But as more entertainmentwebsites pick up the news and more information seems to be added, hope rises that there is some truth in these speculations. The news seems to be following up on earlier hints from John Stamos that a Full House reunion of some kind might be in the works.

The latest speculation about a possible revival of this fan favorite, started on August 26, when TV Guide reported that a revival of Full House is possibly in the works. As the reruns of Full House still get good ratings at Nick at Nite and new generations start to know and love the characters, Warner Bros. is said to consider giving the show a new take, with some of the original cast reprising their former roles. Insiders say the studio even pitched a Full House revival last year, but it wasn't successful because of the conditions they set during the pitch. But as new generations continue to discover Full House, there's no doubt a reboot would generate loads of interest.

John Stamos, who has an ownership stake in the show, is leading the charge to a revival of the show and a reunion of most of the cast. Candace Cameron Bure, Jodie Sweetin and Andrea Barber are on board to once again star as DJ, Stephanie and Kimmy. Bob Saget and Dave Coulier are also involved in some way. Show creator Jeff Franklin is writing the new Full House, and original executive producer Bob Boyett is also involved.

Although most of the Full House cast would be in for a Full House reunion show, some of the cast members might not appear on a revival of the show.

Back in April, Bob Saget told People: "Not everybody would want to do it. Maybe two-thirds of the cast would want to. John Stamos is such a good guy, and I think he would want it to happen in some way if it could. There's some stuff going on, I don't get involved in it, where people were trying to put some energy into it … But I don't think it will happen in a way that it would be everybody." He added that a revival would have to be done right: "It's such a sweet thing, nobody should mess it up. I wouldn't want to see it Brady-ed, where they make fun of it."

So, who might not pick up their former roles? Although most cast members are still very close, Mary-Kate and Ashley Olsen, who played Michelle Tanner, are absent at most of the Full House reunions of any kind. Therefore, they would probably not be involved in a Full House revival.

Additionally, Lori Loughlin currently has her own series on Hallmark channel, When Calls the Heart, and has not yet been mentioned in any of the rumors. Also, last year Lori said that she doubts a Full House reunion would be worthwhile, and the show should be left as it is.

On August 28, The Blaze quoted Candace Cameron Bure on the possible Full House revival: "Full House' fans are the best and from so many generations. If they really want a revival show, they'll probably get it!" She also said that she'd be willing to take part in a new Full House project: "I love my 'Full House' family and would be up for it if it was the right concept, right script and the right timing," she said.